What comes to mind when you hear the word 'chili'?
1. Four-Piece Salsa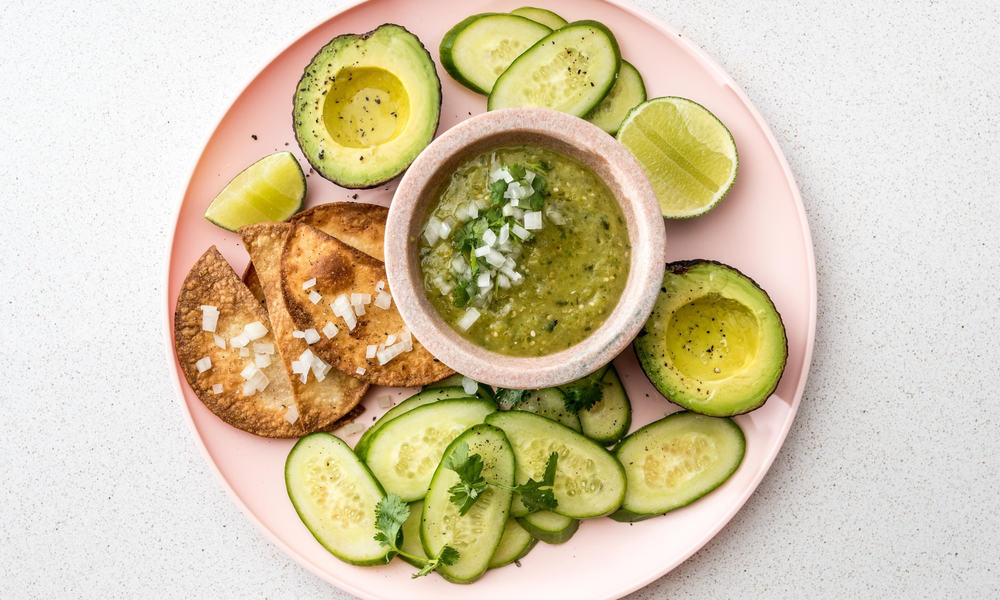 In Mexico, if you're feeling lost in the sauce then don't be! The word for this salsa is "chili" and it's also called Chilean Salsa. But across America, they call it 'chile' or sometimes just chili'. Either way though - both languages have adopted these common dishes with their own unique ways of serving up some spice (I mean flavor). This dish contains tomatoes, as well as tomatillos from heaven, knows where; cilantro leaves belonging only to those who know what makes them thrive best--and garlic cloves that will make even your most miserly companion green with envy. This dish will start a riot in your mouth and you'll find yourself going back for seconds, maybe even thirds! You simply can't go wrong with the consumption of this Chile.
This is a mild salsa that's good to serve as a starter before a Mexican meal or as a side dish with grilled meats. The next time you're at the supermarket, try to find the little wrapped parcels of 4-Cheese Mexican Gamble that you see next to the fresh produce. You can also use any type of sausage meat if you can't find this product.
INGREDIENTS:
1 jar Four-Piece Salsa (can be found in most supermarkets)
1/4 cup of mild chili (or pimento depending on the region; for this dish I used 'piment d'Espelette')
2 tbsp vegetable oil
Salt and pepper to taste
DIRECTIONS:
Heat up a pan and add oil with garlic and onion (chopped finely).
Add the chili and let fry for about 5 minutes until it releases its aroma.
Add the Four-Piece Salsa to the pan along with 1/2 cup water and let simmer for about 10 to 15 minutes depending on how thick you want your sauce to be.
Season with salt and pepper to taste.
Remove from heat and serve as a sauce for chorizo sausage meat (cut into small cubes).
2. Mexican Chicken Pie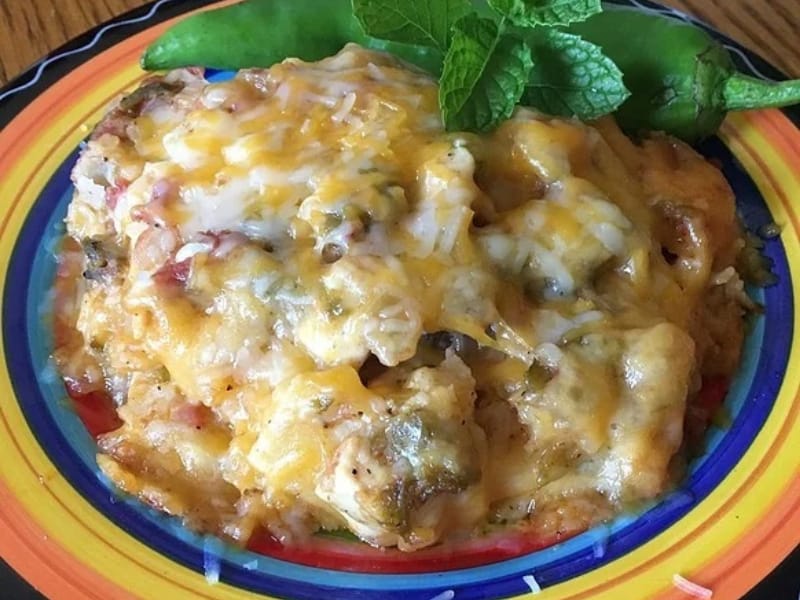 A chile relleno is made by stuffing an Anaheim or Poblano pepper with meat, potatoes, and cheese then bake it until golden brown. But if you want to take your meal up a notch on game day there's nothing like the Hatch Chile enchilada!
The flavors in this dish come together so well thanks to its rich sauce that's marinated thin shreds of cooked chicken before being topped off in layers between two homemade tortillas heated just enough at either end but still firm throughout for maximum chewability-and not forgetting those signature green ol' jalapenos which really give everything some kick without even tasting spicy themselves!
If you find the Hatch Chile enchilada to be too hot or are looking for a side dish more along the lines of traditional tortilla chip dipping salsa then I suggest whipping up some handmade guacamole, especially if you have your very own homegrown avocados!
Ingredients:
2 tablespoons olive oil, more if needed
4 cups chopped onions (about 3 large)
1/4 cup water, more as needed
5 garlic cloves, minced
2 teaspoons salt, plus more to taste
1 teaspoon ground cumin
1 teaspoon dried oregano leaves
2 pounds skinless boneless chicken thighs or breasts cut into thin shreds crosswise
1/3 cup fresh lime juice, more as needed
3 tablespoons all-purpose flour or masa harina (corn tortilla mix) or cornflour (if you desire a very thick sauce)
1 large jar (10 to 12 ounces) Hatch green chiles, drained, seeded, and cut into bite-size pieces
2 tablespoons butter or margarine, softened
15 to 18 medium (8 to 9 inch) flour tortillas
3 to 4 medium ripe avocados (preferably Hass variety which are about 7 ounces each), peeled pitted and mashed with a fork 1 cup sour cream, more if desired 1/2 cup chopped fresh cilantro leaves, more if desired hot pepper sauce (optional)
2 cups (8 ounces) shredded Cheddar, Monterey Jack, or Mexican cheese blend
Directions
Preheat oven to 350 degrees F. Place a rack in the upper third of the oven.
Heat olive oil over medium heat in a large skillet and add onions and water to cover the bottom of the pan, adding more as needed. Cook until onions are soft and translucent but not brown, about 10 minutes, stirring often. Add garlic, salt, cumin, and oregano; cook 1 minute longer. Transfer mixture to a bowl and let cool slightly.
Meanwhile, place chicken in a food processor fitted with the metal blade and process until finely ground or finely chop by hand. Transfer to a bowl and mix with lime juice. Add flour or masa harina (corn tortilla mix), stirring until well combined.
If needed, add additional oil to the pan in which you cooked the onions, then heat over medium-high heat, adding more if needed. Working in batches place chicken mixture into skillet and cook, turning frequently to lightly brown on all sides, about 10 minutes total. Return onion mixture to pan with chicken. Stir in chopped green chiles and 1/2 cup water; simmer just until heated through stirring occasionally, 2 to 3 minutes longer. Season to taste with salt and pepper as desired. Remove from heat and let cool slightly.
Lightly brush one side of each tortilla with water. Spoon about 1 cup chicken mixture down the center of each tortilla, roll up tightly and arrange seam side down in a lightly buttered 13 by 9-inch baking dish or pan that will fit all enchiladas in one layer.
Combine butter or margarine, mashed avocados, sour cream, cilantro, and additional lime juice in a medium bowl; season to taste with salt and pepper as desired. Spread evenly over top of the rolled enchiladas in their pan. Top evenly with cheese blend.
Bake until heated through and cheese is melted stirring once if needed to help distribute ingredients evenly throughout the pie, about 20 minutes longer. Let stand 5 minutes before serving with additional sour cream and chopped cilantro as desired on the side. Serve with fresh homemade guacamole.
3. Slow Cooker Pork Chile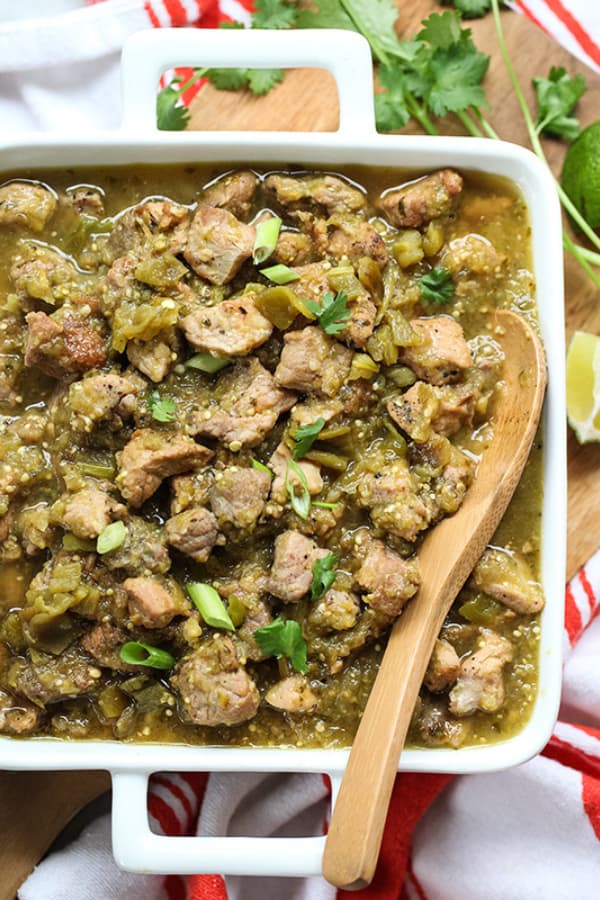 Hot, savory, and full of spices! This is a great chili recipe for when you need something filling but don't have the time to spend in front of an oven. Simply roast your vegetables before blending them up with some salt or using only fresh ingredients if desired- then pour into crockpot alongside our delicious pulled pork pieces which will take about 4 hours total cooking time (not including any precooking).
When the pork is cooked to perfection, serve it on top of rice or with white beans. You can also keep the cooked meat in the fridge for a maximum of 3 days. Just reheat before serving!
There are many variations you can make to this recipe, if you don't have all the ingredients mentioned feel free to make your own substitutions or leave out any spices/ingredients that you do not like! A great way to add tons more flavor is with fresh cilantro when finished cooking.
Ingredients:
Onion (diced)
Carrots (chopped into large pieces)
Green Bell Pepper (chopped into large pieces)
Red Bell Pepper (chopped into large pieces)
Salt/Pepper
Sugar
Cumin Powder
Cayenne Pepper
Paprika
Garlic Powder
Oregano Essence
Chili Powder Ingredient Options: Bell Peppers, Green, Red Onion, Diced Salt/Pepper Sugar Cayenne Pepper Paprika Garlic Powder Oregano Essence Chili Powder Bell Peppers, Fresh Cilantro as a garnish as desired. Brown Sugar if you desire it sweetened up.
To Prepare:
Preheat oven to 450 degrees F (232 degrees C). Put the chopped vegetables on a baking sheet and toss with olive oil. Sprinkle generously with salt and pepper (and brown sugar) and roast until onions are very soft. (About 20 minutes) Remove vegetables from the oven, chop up cilantro to your preference of size (leaving it whole is best for cooking). Combine roasted vegetables with blended sauce in the slow cooker. Add the pork shoulder pieces once this is done, making sure to coat them in the sauce before moving on. Mix all ingredients thoroughly before closing the slow cooker and setting heat accordingly on low or medium/low if keeping on longer than 4 hours.
To Serve:
Once cooked through, remove pork shoulder meat pieces onto a plate for serving. If you're making rice to go with chili use some juice leftover from the chili as stock while boiling the rice on the stovetop! This will ensure perfectly flavored rice.
4. Sour Cream Enchilada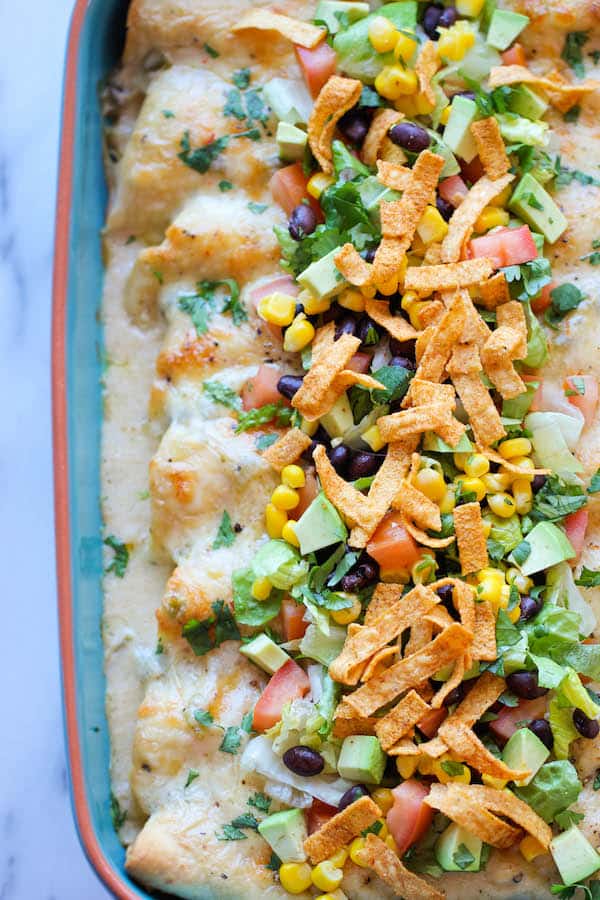 This is a dish that will delight all your senses. Fill the tortillas with Monterey Jack cheese and shredded chicken, then soak them in the sour cream sauce before baking for 25 minutes to get an amazing flavor explosion!
Ingredients:
6 tortillas
1 chicken breast
3 tablespoons sour cream
2 cups Monterey Jack cheese (shredded)
1/2 cup chopped onion
1 can green chili enchilada sauce (10 oz) [alternative: canned red salsa]
Salt and pepper to taste
Special equipment:
9x9 baking dish, nonstick spray [or an alternative such as parchment paper on a baking sheet]
Directions:
Step #1 Preheat oven to 350°F. Boil the chicken in water for about 15 minutes until it's completely cooked through. Then allow it to cool and shred. Next, add cheese and sour cream into the mix with some salt and pepper, then set aside.
Step #2 For the sauce, combine 1 cup of enchilada sauce with the onion in a small pot. Allow it to simmer for 5 minutes or until the onion is soft. Then set aside.
Step #3 Spray your baking dish with nonstick spray (or alternative) and start assembling! Take a tortilla and spoon on some of the enchilada sauce onto it, then place it into your dish with the bottom side up. Spoon out some of the chicken mixtures onto it followed by some cheese, then roll tightly before placing into your dish (seam down). Repeat this process for each one until they are all done. Pour any remaining sauce over top and sprinkle more cheese if you'd like before putting it in your oven. Bake for about 15 minutes (or until cheese is melted). Serve and enjoy!
The recipe makes 6 enchiladas, serves 2-3 people.
Enjoy with additional toppings such as salsa, chopped tomato, or sour cream. Also goes great with refried beans!
5. Cheesy Chile Sandwiches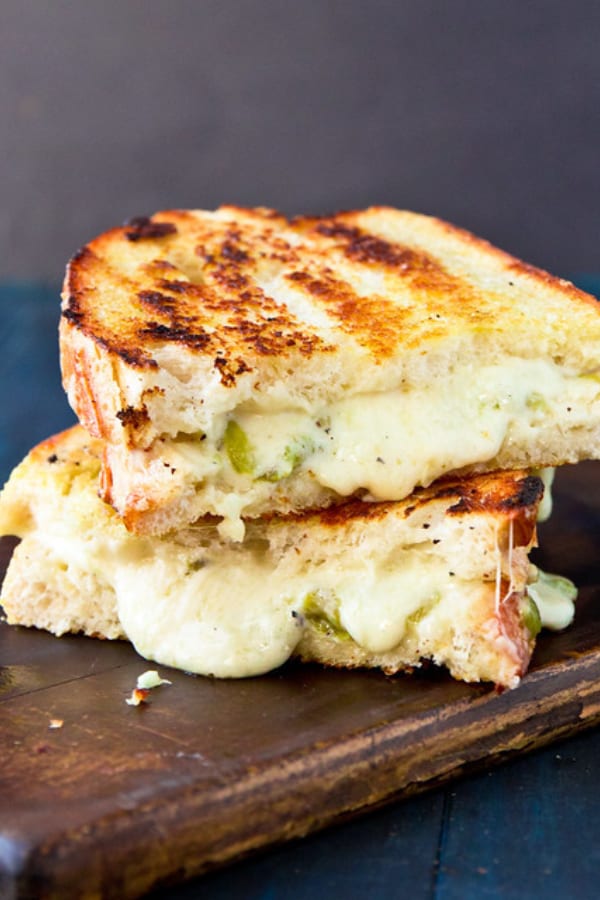 The first time you make a grilled cheese sandwich, your taste buds will thank us later. For the best results use Monterey Jack cheese with horseradish cheddar and light mayonnaise mixed together in addition to garlic; then mix some Greek yogurt into it too for that extra bit of tanginess! To ensure longevity (and because they're just plain tasty), keep them stored safely at room temperature out of direct sunlight - don't forget about those green chiles either: after blending them up we encourage keeping these ingredients anywhere between one day all the way down until about week before serving so their flavor has had plenty enough chance both during preparation as well as storage times beforehand. After letting them simmer on the stove for a bit, simply pop them into the oven, and bingo! You've got yourself some delicious chile cheese sandwiches - if you're looking for a new twist on a classic grilled cheese sandwich.
It's important to note that green chiles are not interchangeable with jalapenos, as they have completely different tastes and textures, but either of these ingredients will work perfectly well no matter which one you choose. To get that gooey goodness you always see in restaurant commercials just remember to let it sit at room temperature out of direct sunlight until your preferred level of pretzel-like perfection is achieved. It's best to enjoy this yummy dish while it's fresh because there really isn't an easy way to store it - the best you can do is lightly cover it with plastic wrap or foil if you have leftovers that must be chilled.
It's also worth noting that this is a great dish for anyone who enjoys cooking because of its simplicity, so if your day has been hectic up until now and you just want something simple to relax with after dinner, don't hesitate to give these chile cheese sandwiches a shot! They're not only easy on the wallet but they are incredibly fun to make as well, so there's no reason not to try them out at least once in your life - plus their key ingredients are probably already sitting right inside your fridge.
Recipe:
3 oz Monterey Jack cheese shredded (or sharp horseradish cheddar)
1 tsp light mayonnaise (preferably Hellmann's or homemade)
1/2 tsp Greek yogurt (optional)
1/4 cup fresh green chiles finely chopped, stems removed; we recommend Pueblo chiles for best results
2 tbsp butter
4 slices bread
salt & pepper optional
Prep time: 10 minutes
Bake time: 5-10 minutes
Serves: 2 people
Procedure:
Add all ingredients except bread and butter to blender; blend until smooth. Set aside.
Butter both sides of bread and season lightly with salt & pepper if desired; place bread butter-side down onto a skillet on low heat.
Assemble sandwich by adding 'chile cheese spread' between bread slices before placing sandwich in the skillet to cook until golden brown, about 3 minutes per side. Serve up piping hot with a side salad or fresh fruit for an irresistible taste experience you won't soon forget!
Pro Tips: For a spicier version just add 1/4 teaspoon cayenne pepper! Feel free to use any sort of mild salsa instead of green chiles too – it tastes just as great! You can also substitute sour cream for the yogurt if you want something even tangier – just be sure to add a bit of water as well so it's not too thick.